Cosmos i-Tech Solutions Ltd. mainly provides .NET and J2EE based software products and project development. According to the development modes, we can provide the service on software product development, software project development, module development and embedded software development. According to the technological fields, we can provide the development of application software and the development of software for infrastructure equipment. According to the types of service, we can provide the services on resource outsourcing, near-shore development and off-shore development.
Basing ourselves on professional development management, after sale service and industry knowledge, we can provide our customers with software development outsourcing service meeting international standard, including software design consultation, software development and test, etc. Meanwhile, we attach high importance on training and reservation of software talents. All members of our development team are skilled and have rich professional knowledge, and they can fully understand the practical applications of the software and embody the applications during development, therefore, the software they develop is highly accurate.
By use of standard flow and methodology for project execution and software development, Tongsheng Computer Technology Ltd. is able to meet customers' requirements in lowest possible risk for the project. We use SW-CMM (Software-Capability Mature Model) as the basis to communicate with the customers and determine the necessary flow and method jointly with the customers.
The standard flow for software development used by Cosmos i-Tech Solutions Ltd. is as follows: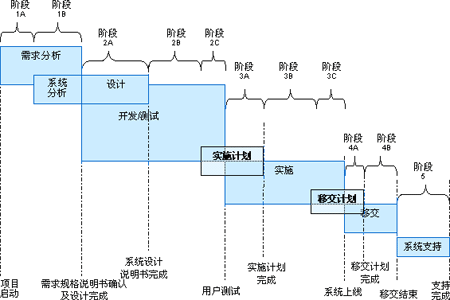 Development of the enterprise's portal website
Development and design of application software
Oursourcing service for secondary development: Provide the secondary development of Oracle business software package in a seamless manner, including Oracle OAF, Portal, XML Publisher, etc., to greatly save the customer's cost.