Are you maximizing your investment in Oracle E-Business Suite to prepare your organization for the future and meet today's rapidly changing business demands? If not, Oracle E-Business Suite 12 is the solution for you!
Oracle E-Business Suite Release 12 enables businesses to think globally to make better decisions, work globally to be more competitive, and manage globally to lower costs and increase performance. With a new user experience and hundreds of cross-industry capabilities spanning enterprise resource planning, customer relationship management, and supply chain planning, this new release helps you manage the complexities of global business environments.
CITS has enough experience and knowledge in Oracle E-Business Suite implementations and upgrades. CITS and Oracle E-Business Suite – a proven alliance ensuring your success today and tomorrow.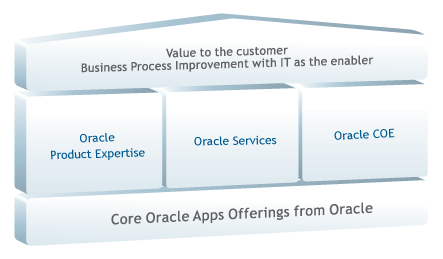 There are many reasons to upgrade to the newest versions of Oracle E-Business Suite, but the most important reason is your bottom line, and the positive results Oracle E-Business Suite can produce for your organization. Here are some specific reasons to "start your engines" and begin planning your upgrade:
Take advantage of Enhanced Functionality

Daily Business Intelligence – Achieve end-to-end business intelligence and empower users at all levels and locations with the information they need to make better decisions
Profitability Analysis – Analyze profitability along any dimension of global operations, including products, channels, segments, customers
Supply Chain Management – Optimize a complex global supply chain network
Financials – Deliver consistent financial reporting while meeting local requirements. Streamline period-end processing across legal entities and improve productivity of shared services across operating units using a single user profile.
Human Resources – Manage all employees within a single system while adhering to local regulations
Advanced Procurement – Streamline processes with consolidated work center and expanded supplier management

Extend Premier Support until 2012 with no additional fees

Premier support ended for release 11.0.3 in February 2007 and Sustaining support ends in January 2009.
Sustaining support ends for releases 11i 1 through 11i 6 in July of 2007. Companies who have not upgraded by then will need to re-license the software to gain access to new releases!
Premier support ends for release 11i 7 in May of 2007!
Premier support ends for release 11i 8 in November of 2007!
Premier support ends for release 11i 9 in June of 2008.
Upgrading to release 11i 10 provides premier support through 2009, and it can be extended for an additional fee.
Upgrading to release 12 gives you time to determine your own migration schedule.

Or Get a Jumpstart on Fusion

Upgrade to a release that provides a direct migration path to Fusion
Leverage the power of Fusion Middleware
Attack the Fusion learning curv
Begin building reports now with BI Publisher
CITS's upgrade approach focuses heavily on planning and proper execution to allow your upgrade to be completed with minimal impact to your current production system. Our approach is streamlined, yet flexible, allowing your upgrade to be performed as either a simple upgrade of current functionality, or as a more complex project that upgrades your current system and delivers additional capabilities as well. How do we do it?
Planning — CITS works with your team to define the requirements of your upgrade, gathering information and building a project plan that will guide your upgrade to a successful conclusion. We review your current Oracle E-Business Suite system and compare it to the baseline or "vanilla" delivered version of the current release. We look at modifications that have been made and help you determine which of those needs to be carried forward or eliminated. We help you determine possible enhancements that will help you get the most from your new system. Then, we build a plan to bring it all together.
Execution — We work with your team to perform the necessary technical development to make sure your new system will run according to plan. This includes executing upgrade scripts, reapplying any necessary modifications, and adding new features and functionality. The end result is a system that delivers the functionality you need. With CITS, you have the option of doing the upgrade on your servers at your location or more cost effectively in CITS's upgrade lab. We can help you determine which scenario is best for your project.
Training — When you work with CITS, training happens at all times throughout the project. We work side by side with your team, transferring our knowledge of the new system every day, ensuring your team thoroughly understands the upgraded system, so that at the end of the project, they are capable of doing future upgrades and maintenance.
Testing — A CITS upgrade will have minimal impact to your current production system. One of the ways we ensure this is by thoroughly testing the upgraded system in a "test" environment before going live. All scripts, modifications and interfaces are thoroughly tested, and only when the system is perfected, do we move your upgrade into production.
CITS — Your Upgrade Partner
Cosmos i-Tech Solutions Limited (CITS) is the only one Oracle Partner in Dongguan to improve our customers' business processes, reduce costs and provide better support for management decision-making. Our more than a decade of Oracle E-Business Suite implementation and upgrade experience is your assurance that we have the technical, functional and business process expertise to deliver a fast and efficient upgrade of your current Oracle E-Business Suite system.