Architecture and Technology
R11i & R12 Technology Contrast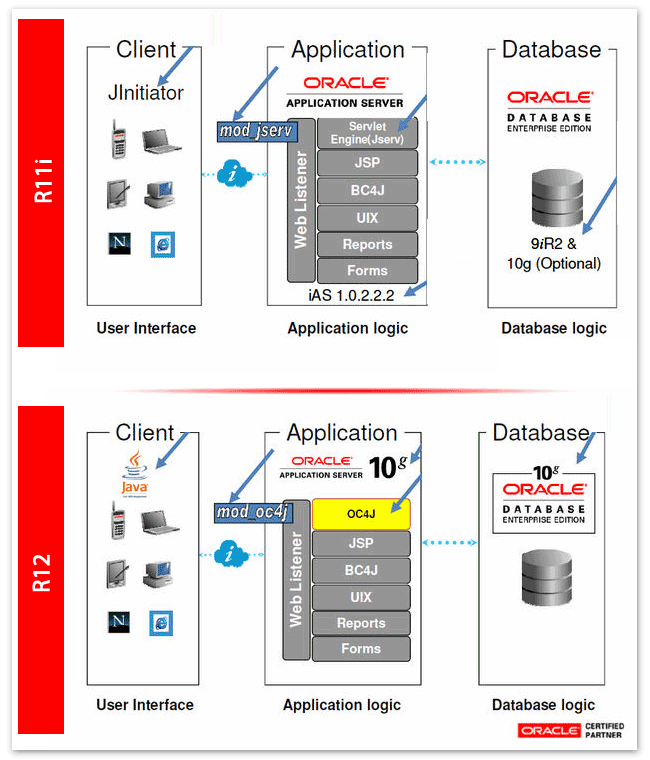 R11i & R12 Component Contrast
Technology – Change from R11i to R12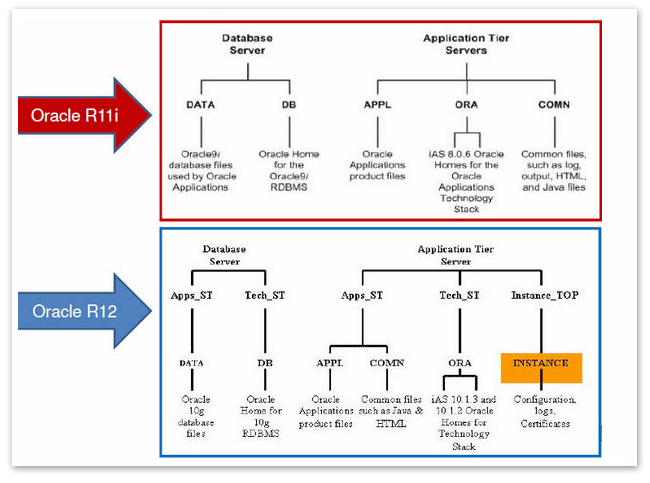 New Features in R12
AutoConfig can be run in parallel on different nodes of Apps
Technology Stack Inventory Validation Report
Shared Application Tier File System Amongst Multiple EBS Instances
Record History is now available for OA Framework based pages
Concurrent requests and managers can now be directed to a specific database instance or node
Analysis and Planning
Why update?
Features in R12
Think Globally
Work Globally
Manage Globally
Reduced pop-ups & duplicate screens
Reduced steps to complete key tasks
Improved look, feel and visual style
Increased personalization capabilities
New functionality in the Financials area
The best in technology : 10gR2 & 10gAS
Application Migration Path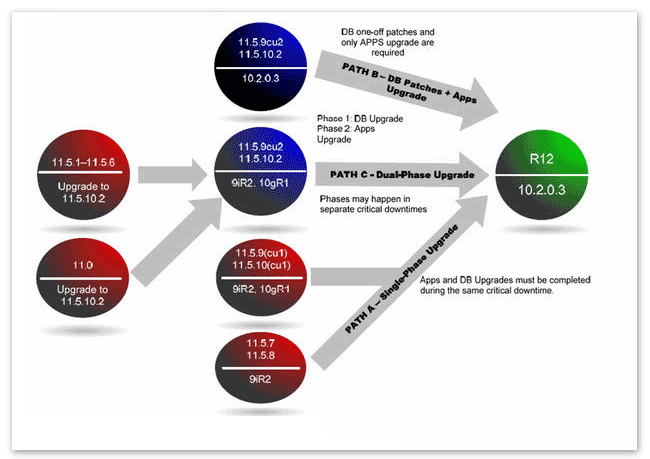 Upgrade Path
Applications R11.5.7 and up can be directly upgraded to R12
Database in all releases must have been upgraded to 10gR2 (11.5.9.2/11.5.10.2) or should be done during upgrade to R12 (11.5.9.1/11.5.10.1 and below)
Appendix
Technology Improvements
AutoPatch replaces AutoUpgrade tool
AD parallel infrastructure improvements for work distribution of Large Table Update
Inclusion of Gather Auto Stats job in R12 Upgrade driver itself to keep statistics up-to-date after the upgrade
sqlplus parallel directive to eliminate the contention between jobs executing parallel query
Optimizer dynamic sampling (for objects with no statistics)
Converted non-critical jobs as concurrent manager requests to reduce overall downtime
R12 unified upgrade driver provides an option to defer compilation of PL/SQL packages during creation
Maintenance Wizard
This tool will guide you through upgrade of Oracle Applications technology stack and products from Release 11i versions to Release 12
Currently, the Maintenance Wizard performs the following types of upgrades:

Upgrades to 11i via the Upgrade Assistant for Release 11.5.10 product. This includes:

10.7 NCA to 11.5.10.2
11.0.3 to 11.5.10.2

Upgrades within 11i via the Maintenance Pack Assistant for 11.5.10 product. This includes:

11.5.3 or higher to 11.5.10.2

Upgrades to Release 12 via the Upgrade Assistant for Release 12 product. This includes:

11.5.8 or higher to 12.0.4

Release Update Pack upgrades via the R12 RUP patches. This includes:

12.0.0 r higher to 12.0.6

RDBMS upgrades for Applications customers via the Applications Database Upgrade Assistant 10g and 11g products. This includes:

8i to 10.2.0.3 9i to 10.2.0.3
9.2.0.8 to 11.1 10.1 or 10.2 to 11.
Upgrade by Request
Option to additionally upgrade historical data that has not been upgraded during the initial upgrade process
Historical data can be upgraded anytime when system is up or down
Following products historical data can be upgraded at a later date

Financials and Procurement
Projects
Supply Chain Management
CRM
Analysis and Planning: Pre-Upgrade Tasks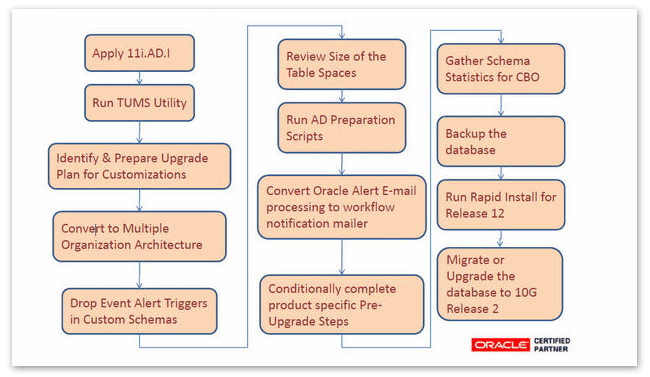 Analysis and Planning: Upgrade Tasks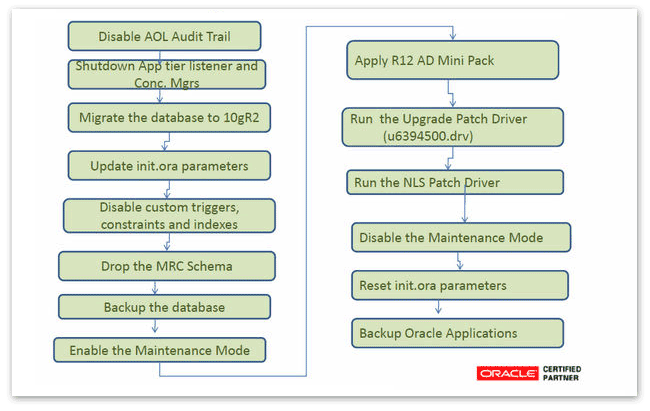 Analysis and Planning: Post Upgrade Tasks