We provide professional Oracle EBS implementation service. We had experience in Oracle over 20 years mainly in China market. Our strength is implementation in manufacturing industry. And, our aim is achieving win-win result of both our professional team and our customers. We not only help our customers to implement ERP, but also provide business and workflow reengineering opinion that let them to have a successful in ERP management.
With Oracle E-Business Suite, Oracle delivers on its Applications Unlimited commitment, the long-term plan to provide continuing enhancements to your existing investments in Oracle applications.
Oracle E-Business Suite provides organizations of all sizes, across all industries and regions with a global business foundation that reduces costs and increases productivity through a portfolio of rapid value solutions, integrated business processes and industry-focused solutions.
With the latest release of Oracle E-Business Suite, customers can:
Achieve rapid value today with standalone solutions that are complementary to an existing 11i or Release 12 environment
Invest in ways to standardize and simplify with integrated business processes that reduce cost and minimize complexity
Strengthen competitive position with purpose-built industry solutions that drive greater value across the enterprise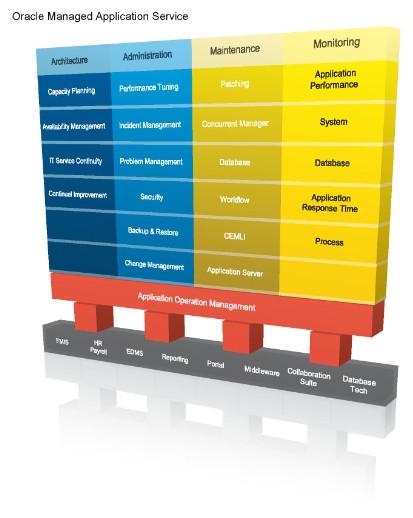 DISCOVER HOW ORACLE E-BUSINESS SUITE CAN HELP YOU
Maximize value by connecting and optimizing supply, demand and design chains with the new Value Chain Planning solutions in Oracle Supply Chain Management
Improve strategic sourcing through online negotiation and collaboration with Oracle Sourcing On Demand
Expect quick ROI by effectively managing pay for performance on a global scale with Oracle Incentive Compensation
Increase operational efficiency and inventory management excellence to combat tight margins in today's fast-paced and challenging business environment with Oracle Warehouse Management (WMS)
Achieve fast time to value by reducing deployment time and lowering overall total cost of ownership with analytics seamlessly integrated to transaction systems including Procurement & Spend Analytics, HR & Talent Management Analytics, Project Analytics, and Federal Financial Analytics
Integrated Business Processes
Maximize the value of your workforce by managing talent enterprise-wide through a truly integrated Talent Management solution that connects strategic and transactional HR data and processes
Improve visibility to estimated costs and make better sourcing decisions with Oracle Landed Cost Management (LCM)
Increase agility by leveraging pre-built, sustainable integrations that reduce implementation risk and cost with AIA integrations
Purpose-Built Industry Solutions
Increase the visibility of ROI for promotional funds and the effect of supplier price changes with Oracle Supplier Ship and Debit and Oracle Price Protection for Wholesale Distribution.
Eliminate incomplete and inconsistent site and product data by centralizing all site and product information from heterogeneous systems with Oracle Site Hub and Oracle Product Information Management (PIM) for Retail.
Reduce the overhead of managing reimbursable agreements with Project Accounting for Federal.
Manage cash flow and ensure subcontractors satisfy contract deliverables with Subcontractor Payments for Engineering & Construction.